Unbeatably affordable and simple: the NEW Laser Particle Sizers ANALYSETTE 22 NeXT
2 models with different measuring ranges, state-of-the-art technology in a compact design, powerful, practically maintenance-free dispersion unit, an extremely flexible programmable measuring process, automatic evaluation and this with a measuring time of usually less than 1 minute.
The ANALYSETTE 22 NeXT Micro with a measuring range of 0.5 – 1500 μm for all typical measurement tasks.
detailed information on the ANALYSETTE 22 NeXT Micro
Or the high-end instrument ANALYSETTE 22 NeXT Nano with an extra wide measuring range of 0.01 – 3800 μm for maximum precision and sensitivity for smallest particles with an additional detector system.
Detailed information on the ANALYSETTE 22 NeXT Nano
Get all the decisive advantages with the model that meets your requirements: especially easy operation and cleaning, short analysis times, reliably reproducible results and the recording of additional parameters such as temperature and pH value during wet dispersion. State-of-the-art technology at an unbeatable price. Cleverly made!
Application consultant Maik Paluga will be happy to assist you in all questions regarding the NEW FRITSCH Laser Particle Sizers ANALYSETTE 22 NeXT as well as in particle sizing. Please contact Mr. Paluga: +49 67 84 70 188 • paluga@fritsch.de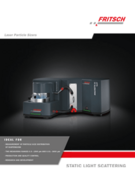 Folleto de productos Instrumentos de medición de partículas por láser ANALYSETTE 22 N
e

XT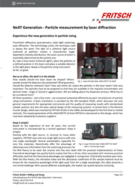 Lecture Laser Particle SizersANALYSETTE 22 N
e

XT